As a tourist in Vienna, you will be able to find free WiFi in various public locations such as cafes, restaurants, libraries, and public squares. You may also be able to find free WiFi in your hotel or accommodations, or at tourist information centers. Some cities also offer free public WiFi in certain areas, so you may be able to find it in popular tourist spots or areas with a lot of foot traffic. We will help you find the best places to find free WiFi or WLAN as it is called in Austria.
Public WiFi – Wien.at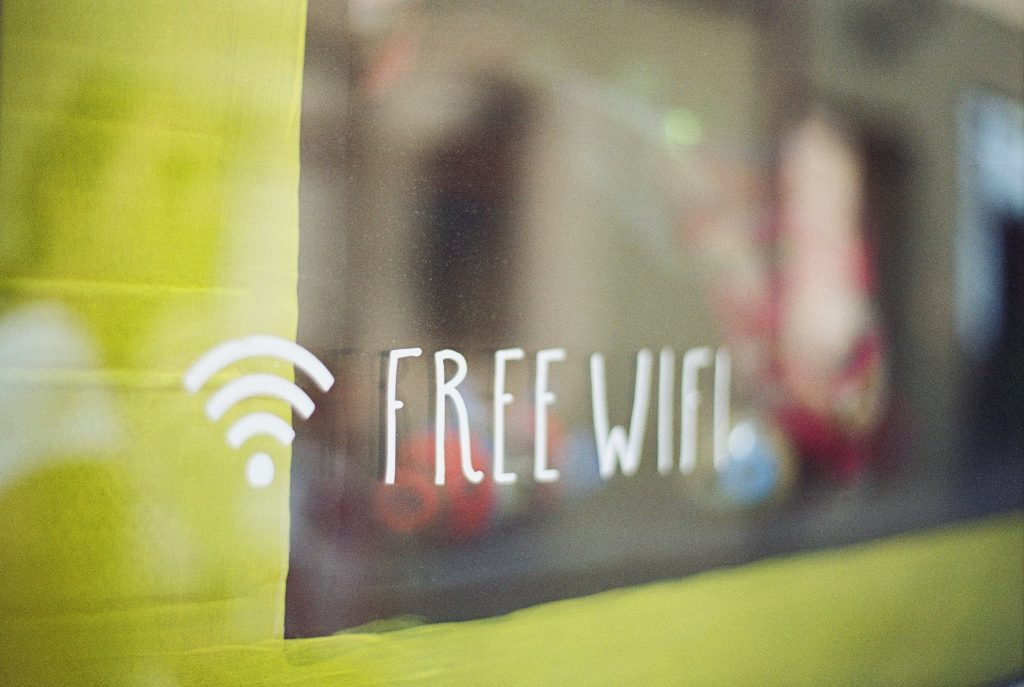 The city of Vienna offers free public WiFi at over 400 locations throughout the city. This includes both municipal hotspots, marked in red on the map, and non-municipal hotspots, marked in blue. When you connect to the public WiFi network, you'll be presented with a page that provides useful information for both locals and tourists, including an option to access the internet. This makes it easy to stay connected and plan your next move while exploring the city.
Map: free WiFi Hotspots  in Vienna
Restaurants, Bars and Hotels
Public locations such as cafes, restaurants, libraries, and public squares often offer free WiFi to their customers or visitors. This can be a convenient way for tourists to access the internet while on the go, and many of these locations are popular gathering spots where you can enjoy a cup of coffee or a meal while you connect to the internet. Some public locations may have a time limit on their WiFi, or require you to make a purchase in order to access the internet. It's always a good idea to check with the specific location you're visiting to see if they offer free WiFi and what the requirements are for accessing it.
Starbucks
My favourite place to get free WiFi while traveling when I need to travel is Starbucks. Whatever one thinks of their coffee, the locations are clean and their stores provide comfortable tables and chairs., which make it a great place to work or relax. The stores have plenty of electrical outlets, and the music and furniture are both inoffensive and comfortable. Starbucks is also convenient, with locations in cities around the world, so you can always find a place to charge your phone, transfer photos to your laptop.
In vienna most Starbucks stores offer WiFi access for free.
McDonalds
Another popular alternative for free WiFi is McDonald's. Many of their locations offer free WiFi, and some of their McCafe locations have nice tables and comfortable chairs that are perfect for working. However, the smell of burgers and fries can be overwhelming for some people, so I generally recommend McDonald's for shorter work sessions or for when you need to quickly look up directions or send a text message. If you're planning on working for a longer period of time, it may be better to find a location with a more pleasant atmosphere.
Major Trainstations and Trains
Most austrian trains offer onboard Wi-Fi. For more information, visit their website. Keep in mind that the mountainous terrain and tunnels in Austria may affect the quality of your internet connection. From my experience the WiFi is good enough to sent emails or download documents, but not capable of streaming, online gaming or working continously online.
Several rail and subway stations in Vienna also have public Wi-Fi hotspots. You can find an overview of all trainstations with free WiFi on the Wiener Linien Map. Just make sure the Wi-Fi symbol is checked on the category list.
Trainstations with public WiFi:
Bahnhof Meidling
Westbahnhof
Hauptbahnhof
Erdberg
Karlsplatz
Stephansplatz
Schottentor
Landstraße/ Wien Mitte
Floridsdorf
Praterstern
Freewave
Freewave is another service offering free WiFi at multiple locations throughout vienna. Currently there are over 1000 locations in austria and you can find a full overview here. Among the locations are many of the more well-known coffee houses, such as Café Central, Café Prückel, or Café Landtmann, so you will easily find a hotspot when sightseeing.
Other notable Freewave locations listed include the MuseumsQuartier, the Furniture Museum, the Austrian National Library, and Schönbrunn Palace.