Munich, the city in southern Germany, is a fascinating place to visit with a rich history, vibrant cultural scene, and plenty of things to see and do. Here are ten must-visit destinations for tourists visiting the city for the first time.
Watch the Glockenspiel Performance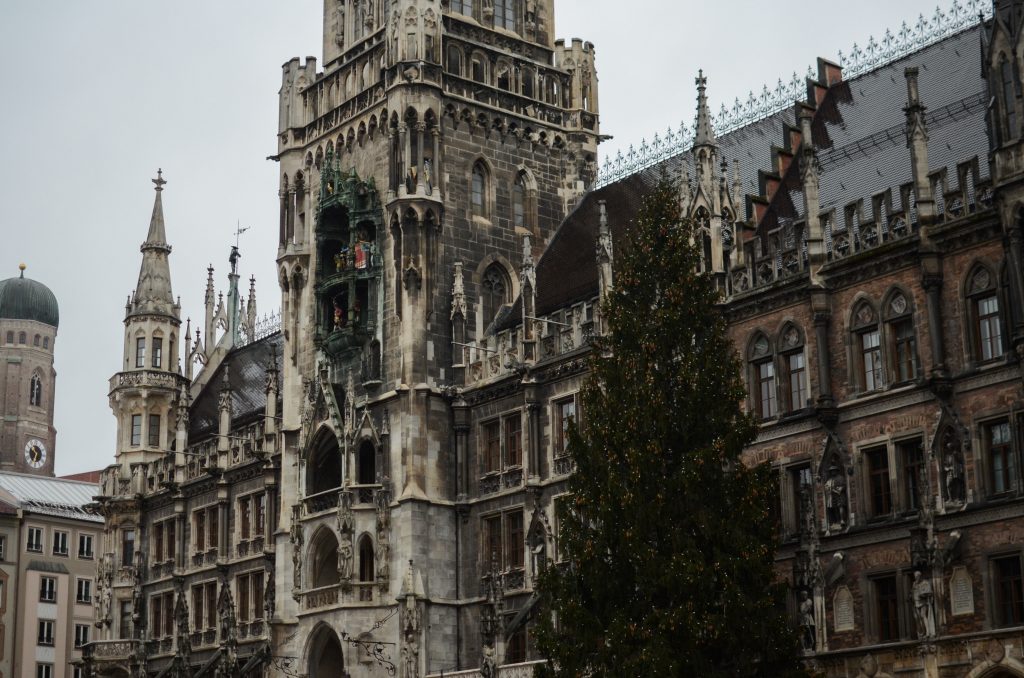 The Glockenspiel Performance is one of the most popular tourist attractions in Munich, Germany. Not only is it a feast for the eyes, but it's also a beautiful musical treat for your ears. The show takes place at the central Marienplatz Square and consists of 43 bells and 32 life-sized figures, which are located at the top of the New Town Hall. The figures are intricately carved and painted, and they come to life as they tell different stories from folklore. Some of the most popular stories include a royal wedding between Duke Wilhelm V and Renata of Lorraine and a jousting tournament between knights.
The Glockenspiel performance is a must-see for anyone visiting Munich, and it's particularly special to watch it live. The bells chime in perfect harmony, accompanied by the mechanical figures, which move in graceful, synchronized dances. The Glockenspiel show is not just a visual spectacle, but it's also a cultural treasure, showcasing the city's rich history and traditions.
The show lasts for about 15 minutes, and it's free to watch. It's held every day at 11:00 and 12:00 (and 17:00 from March to October). Crowds usually gather around Marienplatz Square to watch the performance, so it's best to arrive a bit early to secure a good spot.
If you're planning a trip to Munich, make sure to add the Glockenspiel Performance to your itinerary. It's a truly unforgettable experience, and one that you'll always cherish. Whether you're a music lover, a history buff, or just appreciate beautiful things, the Glockenspiel Performance is a must-see attraction in Munich.
Visit the Frauenkirche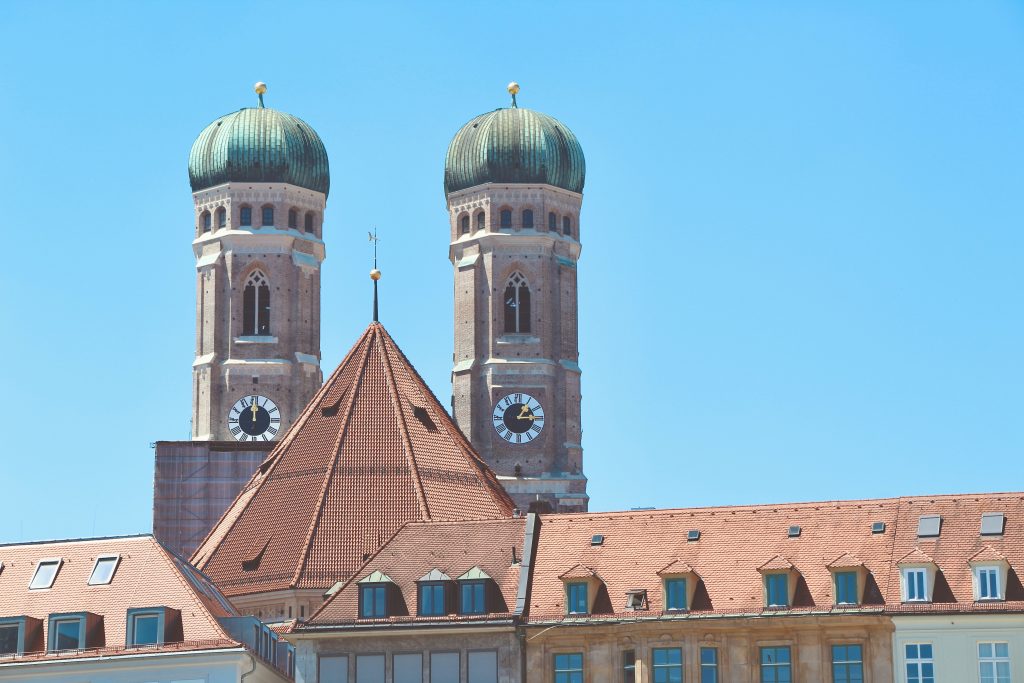 The church in question is a beautiful medieval structure that has stood the test of time and remains an important part of the town's history. Visitors come from far and wide to see the Devil's footprint, which is said to be the imprint of the Devil's cloven hoof. It is located on the threshold of the church, and many believe that it serves as a warning to others who might be tempted to make deals with the Devil.
In addition to the Devil's footprint, the church is also renowned for its stunning architecture and intricate carvings. From the delicate stained glass windows to the elaborate stone carvings that adorn the walls, every aspect of the church has been crafted with care and attention to detail.
Visitors are also encouraged to take a tour of the church to learn about its rich history and to admire the many works of art and artifacts that are housed within its walls. The church has a long and storied history, and its legacy is one that will continue to captivate visitors for generations to come. Whether you are a history buff, an art lover, or simply someone who appreciates beauty and craftsmanship, this church is a must-visit destination.
Climb the New Town Hall
The New Town Hall is not only a popular tourist attraction but also an important historical building in Munich. Built in the Gothic Revival style, the town hall has served as the seat of the city government since 1908. Its iconic Glockenspiel performance is a major attraction, where visitors can admire the beautiful figures dancing on the clock tower. In addition to the fantastic views from the top, the New Town Hall also houses several museums and exhibitions, showcasing the rich history and cultural heritage of Munich. Visitors can explore the history of the city, from its Roman roots to its present-day status as a cultural and economic hub. With its combination of stunning architecture, rich history, and breathtaking views, the New Town Hall is a must-visit for all tourists and travelers to Munich.
Sample Bavarian Food
Munich is a foodie's paradise, with plenty of restaurants serving traditional Bavarian food, such as bratwurst sausages, pork knuckle, pretzels, and käsespätzle (cheesy pasta with bacon and crispy onion). To get the best experience, consider taking a Bavarian beer and food tour or a brewery tour.
Not only are there traditional Bavarian dishes to try, but Munich is also home to a diverse range of international cuisine, from Italian to Thai. Be sure to try some of the local specialties and wash it down with a cold beer from one of the many local breweries, such as Augustiner-Bräu, Hacker-Pschorr, or Hofbräuhaus. In addition, there are many food markets and street vendors where you can sample the local cuisine. A visit to the famous Viktualienmarkt is a must, where you can find everything from fresh produce to handmade crafts and souvenirs. To fully immerse yourself in the culinary delights of Munich, consider taking a cooking class to learn how to make traditional Bavarian dishes.
Take a Free Walking Tour
Join a free walking tour, such as Sandemans, and explore Munich's top sights, including the Marienplatz Square, Frauenkirche, Odeonsplatz Square, and more. Your guide will give you a comprehensive understanding of the city, including its history, culture, and architecture. You'll be able to see some of the city's famous landmarks, such as the New Town Hall with its Glockenspiel performance and St. Peter's Church with its famous Devil's footprint. Additionally, you'll learn about the city's strong traditions and its passion for beer, and you'll get insider tips on where to go for the best local food and drinks. With a free walking tour, you'll not only see the sights, but you'll also get an authentic and immersive experience of Munich.
Shop at the Local Markets
The Viktualienmarkt is a bustling farmers market selling fresh produce, trinkets, and flowers. It's the perfect place to indulge in some foodie souvenirs and grab a bite to eat. It's open from 10 AM to 6 PM on weekdays and closed on Sundays.
Explore the Traditional Buildings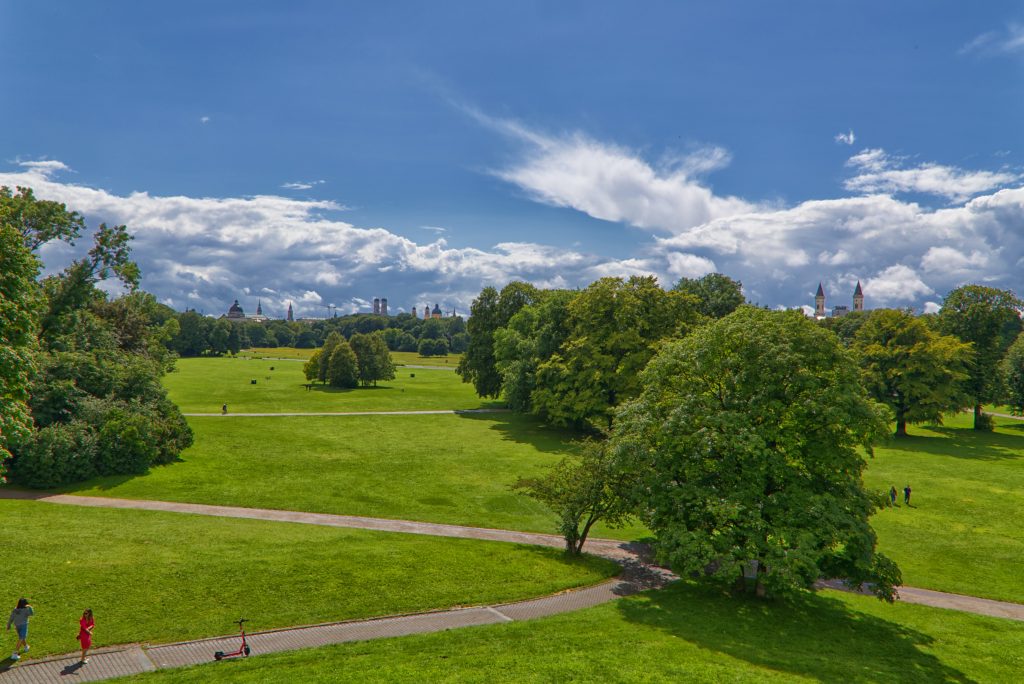 Munich is a city with a rich history, and you'll see this reflected in the city's architecture. Admire the classic neo-gothic style of the New Town Hall, as well as the simple, colorful townhouses that are typically German.
Enjoy the Gardens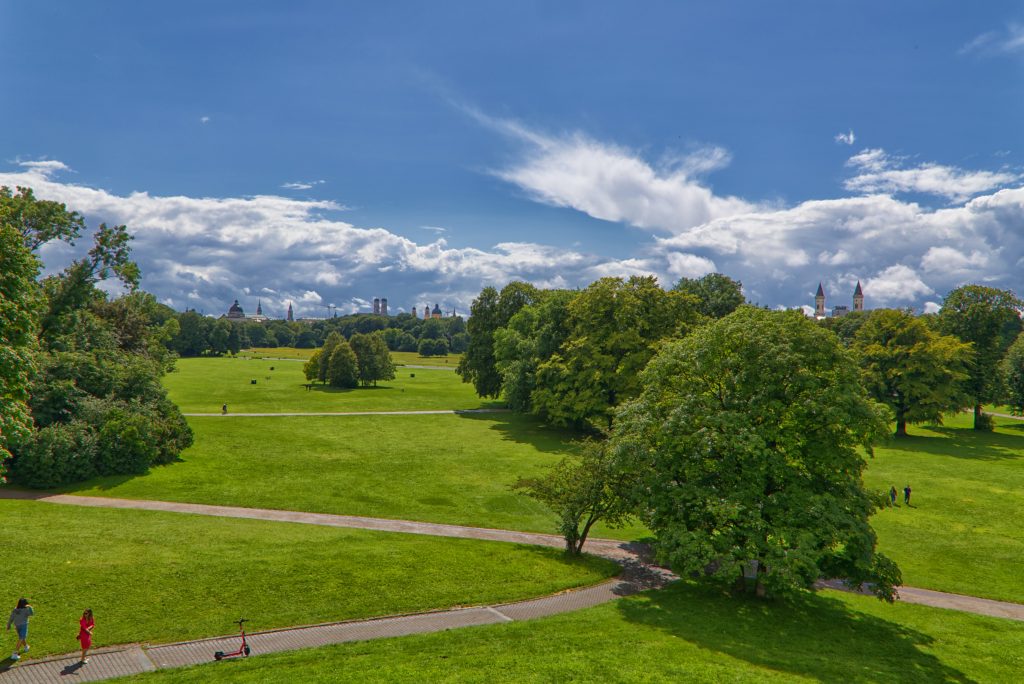 The Englischer Garten, also known as the English Garden, is one of the largest public parks in the world. Located in the heart of Munich, it spans over 900 acres and offers a unique blend of nature and urban life. It is an ideal destination for nature lovers, picnickers, and sports enthusiasts alike. Take a leisurely stroll along its well-manicured paths, relax on the sprawling lawns, and enjoy the peace and tranquility of this lush green oasis. The park also features a Japanese tea house, a Chinese tower beer garden, and a Greek temple-style monument, offering a taste of different cultures and styles. Additionally, it is home to several sports facilities, such as a football pitch, a lawn bowling green, and a swimming area, making it an ideal destination for those seeking an active escape from the city.
Visit Odeonsplatz Square
Nestled in the heart of Munich, Odeonsplatz Square is a must-visit destination for tourists. This charming square is surrounded by historical buildings, monuments and statues that reflect the rich heritage and cultural significance of the city. One of the most prominent attractions here is the golden Theatinerkirche, a stunning Baroque-style church with intricate frescoes, paintings, and sculptures. Visitors can also admire the Feldherrnhalle building, a monumental structure adorned with impressive lion sculptures. This building was once the site of Nazi propaganda speeches and has since become a symbol of the city's resistance against tyranny. Today, Odeonsplatz Square is a bustling hub of activity and is a popular meeting place for locals and visitors alike. Whether you want to admire the beautiful architecture, take a stroll in the parks, or simply enjoy a coffee or beer at one of the many cafes and restaurants, Odeonsplatz Square has something to offer for everyone.
Experience a Beer Festival
Munich is famous for its Oktoberfest beer festival, but there are other options if you can't time your visit to coincide with it. Dachau, a town just 15 minutes from Munich by train, holds an annual two-week festival in August. If you miss that, visit a proper beer hall, such as Augustiner Braustuben or Augustiner-Keller, for a similar experience.